This was quite the shoot. I had been talking with Freya, the stylist I worked with on it for around two months beforehand through a series of virtual meetings and bouncing moodboards back and forth. We finally settled on a seaside-themed shoot, and whittled down the locations we had in mind to Hastings in Sussex.
Since taking part in an incredible webinar with the photographer Campbell Addy - and all the amazing tips he generously shared including writing out concepts or sketching out ideas before a shoot - I've been sketching ideas in a similar way. This has been particularly useful for me, being someone who uses a format in which every shot costs and every shot therefore counts. I use it primarily as a guide; I might not necessarily use all the ideas I've sketched out but at the same time it helps me focus on what I want to get out of the shoot and cuts down time too.
Here are a few examples: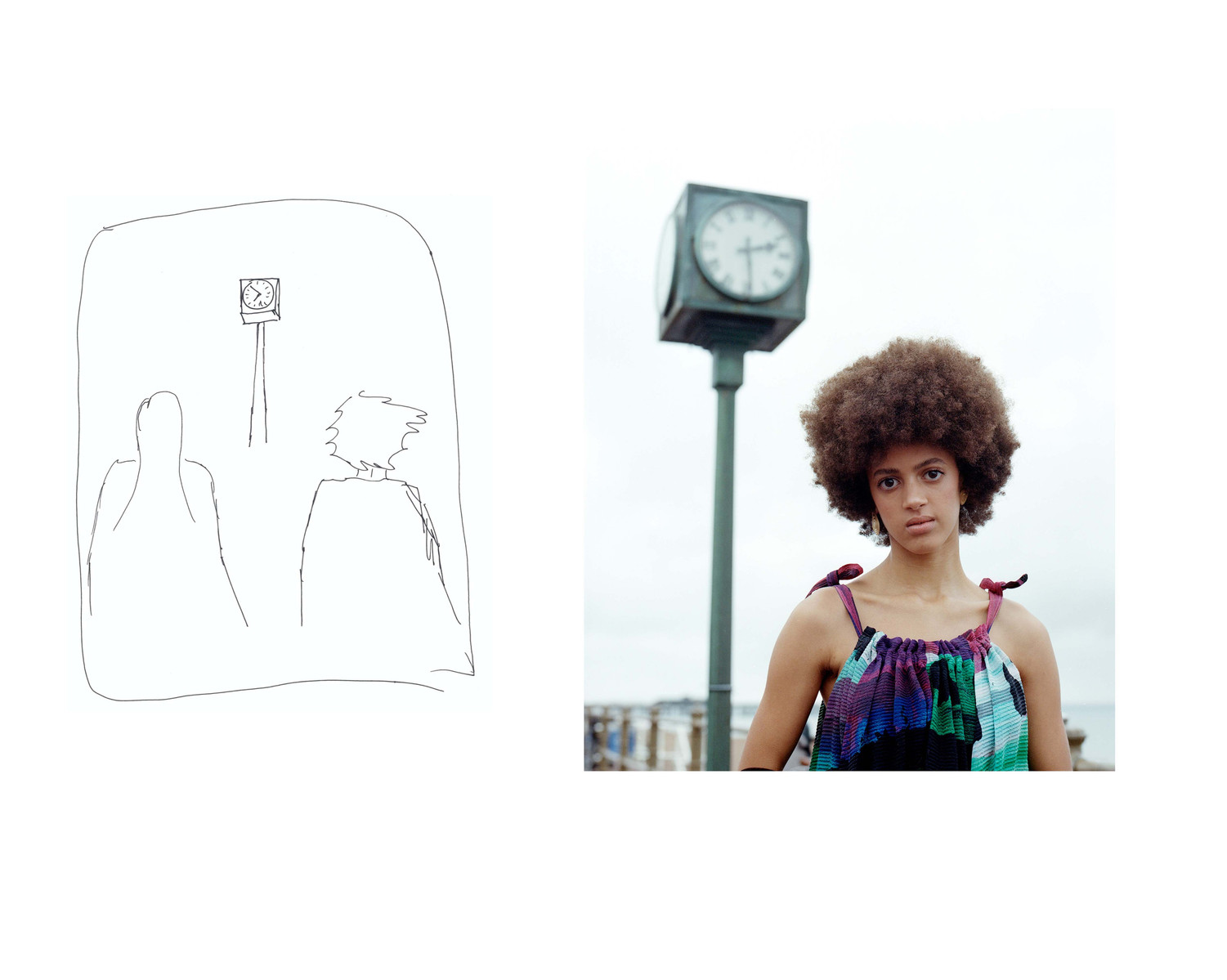 I took the train down to Hastings on a Saturday afternoon the previous weekend to scout for locations, and the weather had been incredible sunshine, with late golden hour light. This being an outdoor location shoot in the UK, we knew that we had to contend with the unpredictability of the British weather. But we were shooting in the middle of July, so probably the safest time to shoot outside right? WRONG…wrong, wrong, wrong.
Keeping a close eye on the forecast in the days leading up to the shoot, I was being promised a full day of sunny, beautifully clear weather. Shoot day however was something else entirely. All was going well (apart from one of the models not being told by her booker that we were driving her out of London to shoot - yes for all she knew we could've been kidnapping her) and the weather on arriving in Hastings was dry and bright. It was only an hour later when we had prepped the two models' first outfits that the rain started.
We spent the next 40 minutes sat in cars, trying to decide when would be a good time to bravely venture out or whether to cancel shoot entirely. We went for the former, as by that point the rain had calmed down a little, and I could feel that we were still managing to capture good stuff
I gotta thank our models, Scarlett and Ruoyi for their patience it was was particularly challenging weather, which got only worse when we turned up at our second location that day, the beach and sand dunes of Camber Sands. And do you know what was the real kicker? Not 20 minutes down the road during our journey back to London, the sky turned a beautiful pink and the sun broke through the clouds, as though the weather said f*ck you.
Anyhoo, the pictures turned out really well, well enough to get published in Flanelle magazine. You can see the feature here.